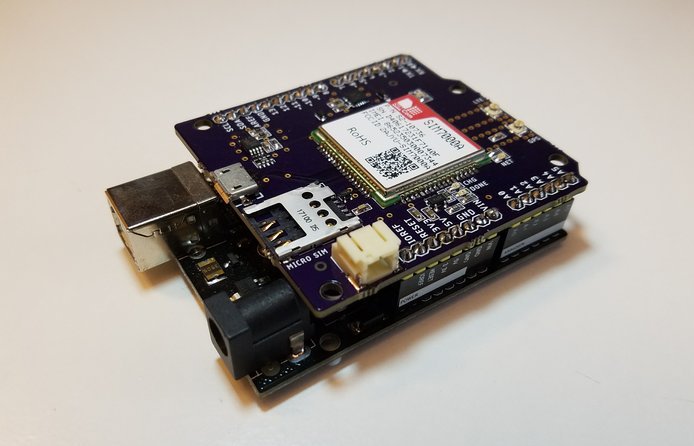 With the emergence of low-power IoT devices with cellular connectivity and the phase-out of 2G (with only T-mobile supporting 2G/GSM until 202), everything is moving toward LTE and this has left many people scrambling to find better solutions.
Although these 2G and 3G modules are a great starting point, it's time to move forward and SIMCOM recently announced their new SIM7000A LTE CAT-M module at a developer's conference.
NarrowBand IoT (NB-IoT) or "CAT-M2" technology is a Low-Power Wide Area Network (LPWAN) technology specifically designed for low-power IoT devices.
For IoT devices using radio technology (RF) there are several things to keep in mind: – – Each of these have tradeoffs (and I won't really explain them all); for example, large bandwidth allows devices to send lots of data (like your phone, which can stream YouTube!)
Hence, "narrow"-band technology, ideal for low-power devices with little amounts of data but still with long range (wide area)!
This completely open-source LTE shield uses the latest and greatest CAT-M NB-IoT technology optimized for low-power IoT devices!.

@arduino:An open-source NB-IoT shield for your Arduino:
With the emergence of low-power IoT devices with cellular connectivity and the phase-out of 2G (with only T-mobile supporting 2G/GSM until 202), everything is moving toward LTE and this has left many people scrambling to find better solutions. However, this has also left many hobbyists facepalming with legacy 2G technology like the SIM800-series modules from SIMCOM. Although these 2G and 3G modules are a great starting point, it's time to move forward and SIMCOM recently announced their new SIM7000A LTE CAT-M module at a developer's conference. How exciting! 🙂

The amazing part of all of this is that SIMCOM made it extremely easy to migrate from their 2G and 3G modules to this new module! The SIM7000-series use many of the same AT commands which minimizes the software development by miles! Also, Adafruit already has a wonderful FONA library on Github that can be used to introduce this new SIM7000 into the party!

What is LTE CAT-M?

LTE CAT-M1 is considered the second-generation LTE technology and is lower-power and more suitable for IoT devices. NarrowBand IoT (NB-IoT) or "CAT-M2" technology is a Low-Power Wide Area Network (LPWAN) technology specifically designed for low-power IoT devices. It is a relatively new technology that is, unfortunately, not yet available in the US, although T-Mobile has announced that they plan on delivering nation-wide (USA) NB-IoT coverage in 2018.

For IoT devices using radio technology (RF) there are several things to keep in mind:
Open-Source NB-IoT Shield for Arduino
Related