Shoot like a pro, calculate gait speeds, and transfer and access files with ease with today's collection of apps.
All app prices are subject to change at any time and without notice regardless of stated free duration. Price changes are solely under the control of the developers.

Gait Speed ($ 0.99 → Free, 9.2 MB): Calculate gait speed with this health app. Physical therapists and physicians.
Gait Speed allows you to focus on your patient and not your phone. Select a pre-defined gait distance or create a custom one. Then use the external volume buttons to start and stop the timer during the trial. You're able to record multiple trials to determine the gait speed for your patient. The app also includes the ability to save, edit, and email yourself patient data.
Gait Speed is available for free for a limited time. It has a 5-star rating with a total of 4 ratings.
Chromatica camera ($ 2.99 → Free, 18.3 MB): Shoot like a pro with Chromatica. iPhoneographers who want to add a personal touch.
Chromatica is a mobile photographer's dream come true. It's one of the few photography apps that features ISO and shutter priority modes, allowing you to make intelligent real-time adjustments. Clipping warnings highlight over- and under-exposed areas in your shot, and separate controls for focus and exposure points help quickly remedy any issues. Chromatica also features object tracking, a histogram, a lens tracker for depth capture, and optical stabilization.
Chromatica camera is available for free today only (09/15). It has a 5-star rating with a total of 6 ratings.
Phone Drive ($ 1.99 → Free, 30.9 MB): Transfer files and access them with ease with Phone Drive. Everyone from students to business professionals.
Phone Drive allows you to easily grab files from your home computer or a local iDevice. To download files from your computer, simply point your browser at the provided URL. To download files from another iDevice, all you need is to install and launch the app on both. Phone Drive is able to read and play a wide variety of text and media files, and you're able to organize them within folders. Files can also be sorted by name, kind, or date modified. There's even a built-in text editor that allows you to create files.
Phone Drive is available for free for a limited time. It has a 4.5-star rating with a total of 1698 ratings.
Productive – Habit Tracker ($ 4.99 → Free, 68.1 MB): Helps motivate you to create positive daily habits. Try free for 1 week, then it's less than 50 cents a week to keep going. Anyone trying to improve any part of their life. From fitness to social habits, this app is very flexible with a nice interface.
New 1 week free trial and lower pricing overall. Create lists of positive habits either by manually entering them or choosing from the pre-designed set. They offer a intelligent reminder system automatically puts habits that need to be completed to the forefront, making it easier to focus on the task at hand. The app also includes stat tracking and passcode protection. To learn how to get 1 free week tap here.
Productive – Habit Tracker is available for free today only (09/15). It has a 4.5-star rating with a total of 39109 ratings.
That concludes today's issue of Apps Gone Free. If you like staying on top of these daily deals, don't forget to check out our free AppsGoneFree app.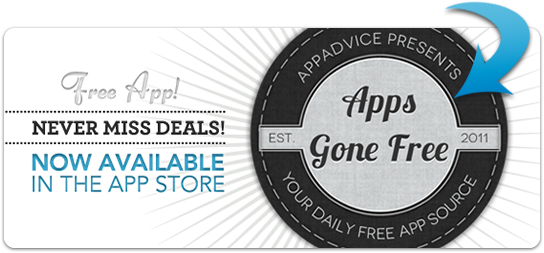 It provides all the deals each day, and even an archive of past deals that are still active.
Developers:
If you are a developer who would like to get your app included in our "Apps Gone Free" daily lists, here's our basic set of rules:
It must have at least a three-star average rating at the time it goes free.
The app must not have been free numerous times (3+) over the last six months.
The free version of your app must not include ads.
To submit an app, simply send a request to [email protected] with the subject "Apps Gone Free." Please include the name of the app, a link to it in the App Store, when and for how long you intend to offer the app for free, and anything else you would like to share. We will take it from there.