Enjoy a dumbed down version of soccer, track crypto currencies, and unlock your full potential with today's collection of apps and games.
All app prices are subject to change at any time and without notice regardless of stated free duration. Price changes are solely under the control of the developers.
Primed Mind – Mindset Coach ($ 2.99 → Free, 15.3 MB): Unlock your full potential with Primed Mind. Everyone from athletes to executives.
Primed Mind acts as your personal mindset coach. It'll help you achieve all of your personal goals through hypnotherapy, meditation, and mindfulness techniques. The app includes multiple channels to help you get primed to study, play and compete, work, sleep, and much more. You'll find more than 200 audio sessions in all.
Primed Mind – Mindset Coach is available for free for a limited time. It has a 5-star rating with a total of 64 ratings.
Dumber League ($ 2.99 → Free, 41.1 MB): Enjoy a slapstick version of soccer in Dumber League. Sports fans.
Forget World Cup talent. These guys have a difficult enough time staying on their own two feet, and that's what makes Dumber League a fun and entertaining experience. Pick a team and head to the field. Drag and release to fire kicks over your opponents and to your own teammates. Like real soccer, your objective is to score a goal. Unlike real soccer, your teammates and opponents will constantly trip and fall over each other and various obstacles like goats and trash cans. The game includes a campaign mode, local multiplayer, and the ability to upgrade attributes.
Dumber League is available for free for a limited time. It has a 4.5-star rating with a total of 7 ratings.
Bitcoin Convert ($ 1.99 → Free, 21.9 MB): Find out how Bitcoin and other crypto currencies compare to fiat currencies with Bitcoin Convert. Anyone interested in crypto.
Bitcoin Convert makes it easy to monitor your crypto fortune. It allows you to quickly check fiat currency rates against popular crypto currencies like Ripple, Ethereum, Bitcoin Cash, Litecoin, and many more. Bitcoin Convert is also able to send alerts when a price drops below a designated value, and displays historical data.You have banked some Bitcoin or other crypto.
Bitcoin Convert is available for free for a limited time. It has a 4.5-star rating with a total of 402 ratings.
Tap Tap Fish – AbyssRium ($ 1.99 → Free, 283.6 MB): Bring life to your aquarium in Tap Tap Fish – AbyssRium. Fans of clicker games.
Tap Tap Fish provides a zen-like gaming experience. The stone at the bottom of your aquarium will help you build up vitality through taps. Lots and lots of taps. Then use your vitality to add a wide variety of fish, turtles, dolphins, sharks, and whales to your tank. Add coral, anemones, and other underwater plant life to increase the rate at which you can obtain vitality. Tap Tap Fish also includes the ability to view your aquarium in virtual reality.
Tap Tap Fish – AbyssRium is available for free today only (06/24). It has a 4.5-star rating with a total of 30012 ratings.
That concludes today's issue of Apps Gone Free. If you like staying on top of these daily deals, don't forget to check out our free AppsGoneFree app.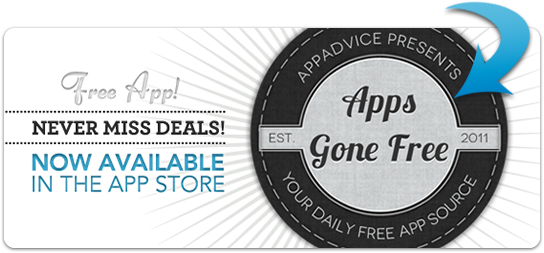 It provides all the deals each day, and even an archive of past deals that are still active.
Developers:
If you are a developer who would like to get your app included in our "Apps Gone Free" daily lists, here's our basic set of rules:
It must have at least a three-star average rating at the time it goes free.
The app must not have been free numerous times (3+) over the last six months.
The free version of your app must not include ads.
To submit an app, simply send a request to [email protected] with the subject "Apps Gone Free." Please include the name of the app, a link to it in the App Store, when and for how long you intend to offer the app for free, and anything else you would like to share. We will take it from there.