Seek out fantastic AR experiences, convert units, and play a digital version of Backgammon with today's collection of apps and games.
All app prices are subject to change at any time and without notice regardless of stated free duration. Price changes are solely under the control of the developers.
Tadaa SLR ($ 3.99 → Free, 28.8 MB): Take fantastic SLR-quality photos with Tadaa SLR. Those who want to put their subject in focus.
Tadaa SLR does most of the heavy lifting for you, but it includes a handful of powerful editing features that will please even the most seasoned iPhoneographers. After taking your photo you're able to apply a mask to your subject manually or have Tadaa SLR detect the edges automatically. The aperture, highlight and gloss levels, and range of your blur effect can be adjusted via sliders. Circular, linear, and complete blur options are available as well. With your subject fully in focus and background blurred out, go ahead and add some filters before sharing it.
Tadaa SLR is available for free for a limited time. It has a 4-star rating with a total of 735 ratings.
Backgammon HD ($ 4.99 → Free, 82.3 MB): A digital version of Backgammon from the same team that brought Gin Rummy, Cribbage, Spite and Malice, and Hearts to the App Store. Anyone looking to play a game of Backgammon while on the go.
This is our favorite version of Backgammon in the App Store due to its massive online community. It's always more fun to play with others, right? You're able to play turn-based or live games of Backgammon via Game Center. You can choose to play with a friend or see how your skills match up against other players all over the world. The cool part is, you don't have to sit around and wait to be matched up. You can actually hone your skills against intelligent AI opponents in single player games while you wait for a match to be found.
Backgammon HD is available for free for a limited time. It has a 4-star rating with a total of 3635 ratings.
Seek XR – Augmented Reality ($ 23.99 → Free, 370.3 MB): Explore a new reality with Seek XR. All new users will receive three free months of access to Seek Studio, which arrives next month via an update. Anyone interested in augmented reality.
Seek XR will change the way you see augmented reality. It acts as a portal to compelling AR experiences from the world's most talented creators. Play games, interact with 3-D models, battle spaceships, or view the solar system in your living room. Anything is possible with Seek XR. Next month the developers of Seek XR will be introducing Seek Studio, which will allow you to create your own AR experiences without any coding knowledge. All new users will receive free access for three full months.
Seek XR – Augmented Reality is available for free for a limited time. It has a 5-star rating with a total of 128 ratings.
Convoto ($ 5.99 → Free, 6.6 MB): Simplify the way you convert units with Convoto. Business professionals, chefs, students, and anyone else who needs to convert units often.
Convoto's conversion categories are laid out in one big scrollable list. You can browse through them or you can search for something specific. Tapping on a category will reveal the units contained within. All you have to do is tap on two units to select them, and then swipe up and down to change their values. Conversions can be favorited for quick access later on, and you can even have the app launch into your most used conversion category.
Convoto is available for free for a limited time. It has a 4.5-star rating with a total of 42 ratings.
That concludes today's issue of Apps Gone Free. If you like staying on top of these daily deals, don't forget to check out our free AppsGoneFree app.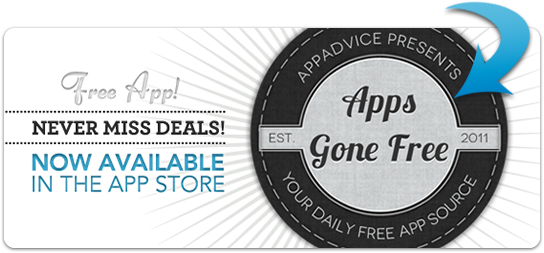 It provides all the deals each day, and even an archive of past deals that are still active.
Developers:
If you are a developer who would like to get your app included in our "Apps Gone Free" daily lists, here's our basic set of rules:
It must have at least a three-star average rating at the time it goes free.
The app must not have been free numerous times (3+) over the last six months.
The free version of your app must not include ads.
To submit an app, simply send a request to [email protected] with the subject "Apps Gone Free." Please include the name of the app, a link to it in the App Store, when and for how long you intend to offer the app for free, and anything else you would like to share. We will take it from there.