Throw a ball into a box, challenge your geography knowledge, and paint with music with today's collection of apps and games.
All app prices are subject to change at any time and without notice regardless of stated free duration. Price changes are solely under the control of the developers.
Musical Paint For Kids ($ 1.99 → Free, 106.4 MB): Paint with music with this delightful entertainment app for children. Parents with children eight and under who love to create.
Musical Paint For Kids provides a multi-sensory experience for your child. They're able to select from six adjustable colors and then paint their hearts out. Each color is accompanied by a different tune, so each stroke will create beautiful music. Your child can sign their work of art before saving it, adding a nice personal touch.
Musical Paint For Kids is available for free for a limited time. It has a 4-star rating with a total of 63 ratings.
GeoBee Challenge ($ 1.99 → Free, 99.4 MB): Find out how well you know your geography with this challenging trivia game from National Geographic. Anyone who wants to test their knowledge.
National Geographic will help you find out if you know your stuff no matter your age. The object of the game is to correctly answer the multiple choice questions and discover the locations on the map as quickly as possible since both are scored separately. You must also hit a target score to move on to the next round, otherwise you'll have to start all over. The game includes more than 1,300 questions, and more than 1,000 locations to pick out. It also includes achievements and leaderboards via Game Center.
GeoBee Challenge is available for free for a limited time. It has a 4.5-star rating with a total of 2041 ratings.
Trick Shot ($ 1.99 → Free, 100.5 MB): Throw a ball into a box in Trick Shot. Fans of one-touch gameplay.
In each of the 100 levels, all you have to do is throw a ball into a box. How difficult can that be? Turns out, pretty difficult. The ball in question is super duper bouncy, and the path to the box is almost always obstructed. Pull back in the target area to launch the ball and bounce it off of anything and everything, just as long as it's not the edges of the box. Otherwise you won't achieve a perfect rating. On the positive side, you get as many chances as you like to score a trick shot.
Trick Shot is available for free for a limited time. It has a 4.5-star rating with a total of 877 ratings.
Multiplication Flash Cards Games Fun Math Problems ($ 3.99 → Free, 43.6 MB): An educational game that actually makes building math skills and learning to multiply fun. Children in grades second through fourth.
Multiplication Flashcard Match Games is loaded with positive reinforcement. It will help your child learn to multiply by having them play a variety of memory matching games. You're able to choose the best number range for your child's skill level, but no matter which you choose your child will be able to hear the numbers and equations as they are touched. After each round, they'll receive positive feedback and balloon popping rewards. Hints are available along the way, and "Show Me" and "Peek" features make it even easier for young learners to enjoy.
Multiplication Flash Cards Games Fun Math Problems is available for free for a limited time. It has a 5-star rating with a total of 6 ratings.
That concludes today's issue of Apps Gone Free. If you like staying on top of these daily deals, don't forget to check out our free AppsGoneFree app.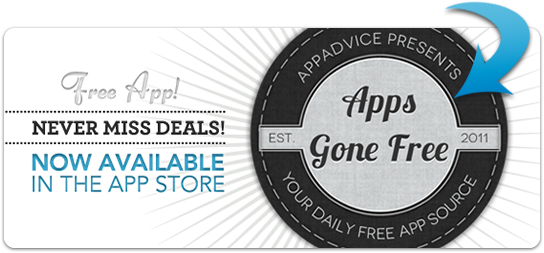 It provides all the deals each day, and even an archive of past deals that are still active.
Developers:
If you are a developer who would like to get your app included in our "Apps Gone Free" daily lists, here's our basic set of rules:
It must have at least a three-star average rating at the time it goes free.
The app must not have been free numerous times (3+) over the last six months.
The free version of your app must not include ads.
To submit an app, simply send a request to [email protected] with the subject "Apps Gone Free." Please include the name of the app, a link to it in the App Store, when and for how long you intend to offer the app for free, and anything else you would like to share. We will take it from there.