Create sensational works of art, generate funky sounds, and battle evil with today's collection of apps and games.
All app prices are subject to change at any time and without notice regardless of stated free duration. Price changes are solely under the control of the developers.

monotone delay ($ 0.99 → Free, 2.6 MB): Create funky sounds with Monotone Delay. Musicians.
Monotone Delay will change your tune. It's a simple yet powerful ribbon synthesizer consisting of three main parts: frequency modulating LFO, lowpass filter, and delay. You're also able to change the waveform of the LFO between a triangle and a square wave with the flip of a switch. Just spin the knobs and see what you can come up with.
monotone delay is available for free for a limited time. It has a 4.5-star rating with a total of 17 ratings.
Tower of Fortune ($ 0.99 → Free, 12.7 MB): A retro-style RPG with a nifty slot machine mechanic. Fans of the RPG genre who also enjoy one-button gameplay.
Play as a retired hero who is forced to draw his sword once again when his daughter is taken by an unknown power. Spin the wheel to battle opponents, earn gold, and obtain special items. The game includes 39 different enemies, 37 types of equipment, 39 combat quests, 12 tavern quests, and three different endings.
Tower of Fortune is available for free for a limited time. It has a 4.5-star rating with a total of 3613 ratings.
Louvre HD ($ 1.99 → Free, 120.0 MB): A collection of 2,300 of the best works of art stored at the Louvre. Anyone who can appreciate classic paintings.
The collection can be browsed through and broken down by genre or artist, or you can search for specific paintings. Louvre HD allows you to save paintings as favorites, view them in a slideshow, and save high quality versions to your photo library.
Louvre HD is available for free for a limited time. It has a 5-star rating with a total of 1147 ratings.

Vectornator Pro ($ 7.99 → Free, 89.6 MB): Create memorable works of art with Vectornator. Graphic artists.
Vectornator puts the power of a professional desktop graphics application into the palm of your hand. As a graphics professional you'll find everything you need including silky smooth performance, scaling, live blending, color profiles, custom fonts, P3 color space support, pressure sensitive brush tools, and so much more. Vectornator is fully optimized for 64-bit and multi-core processors, putting all of that hardware to good use. It also supports a wide variety of file formats to ensure a smooth workflow.
Vectornator Pro is available for free for a limited time. It has a 4.5-star rating with a total of 126 ratings.
That concludes today's issue of Apps Gone Free. If you like staying on top of these daily deals, don't forget to check out our free AppsGoneFree app.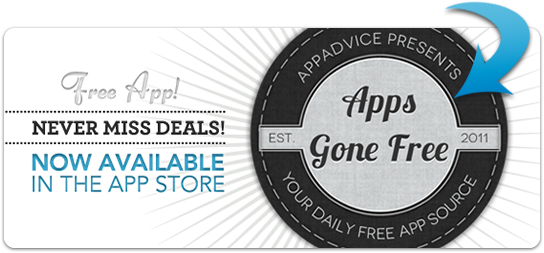 It provides all the deals each day, and even an archive of past deals that are still active.
Developers:
If you are a developer who would like to get your app included in our "Apps Gone Free" daily lists, here's our basic set of rules:
It must have at least a three-star average rating at the time it goes free.
The app must not have been free numerous times (3+) over the last six months.
The free version of your app must not include ads.
To submit an app, simply send a request to [email protected] with the subject "Apps Gone Free." Please include the name of the app, a link to it in the App Store, when and for how long you intend to offer the app for free, and anything else you would like to share. We will take it from there.