Zero out numbered tiles, jam with jungle animals, and share teletext stickers with today's collection of apps and games.
All app prices are subject to change at any time and without notice regardless of stated free duration. Price changes are solely under the control of the developers.
Zero+ ($ 0.99 → Free, 2.4 MB): Swipe to slide numbered tiles in order to make them all zeroes in Zero. Fans of logic-based puzzle games.
The basic gameplay mechanics in Zero are simple enough. You must slide positive and negative numbered tiles around the board in order to achieve zero. The first few levels consist of just ones and twos, but things get crazy pretty quickly when large numbers and new kinds of modifier tiles enter the mix. Also, keep in mind that tiles won't stop sliding unless they run into something. The game includes a total of 120 levels.
Zero+ is available for free for a limited time. It has a 5-star rating with a total of 65 ratings.
Jungle Jam – Child Friendly! ($ 2.99 → Free, 22.1 MB): Keep your toddler entertained with this interactive music app. Jungle Jam was designed for children ages one through four.
Jungle Jam is completely free of buttons, menus, and in-app purchases, so your young child can mash away on the xylophone without any interruptions. The app also includes a fully interactive environment, allowing your child to activate a variety of animations by tapping all over the screen.
Jungle Jam – Child Friendly! is available for free for a limited time. It has a 4-star rating with a total of 57 ratings.
Teletext Stickies ($ 3.99 → Free, 2.1 MB): Start a conversation with these Teletext stickers. Sticker collectors.
Teletext Stickies are an homage to the long gone medium of teletext. Each of the more than 40 animated stickers have been lovingly crafted pixel-by-pixel. You'll find funny faces, adorable critters, memes, and holiday items. Just peel and stick.
Teletext Stickies is available for free for a limited time. It has a 5-star rating with a total of 8 ratings.
That concludes today's issue of Apps Gone Free. If you like staying on top of these daily deals, don't forget to check out our free AppsGoneFree app.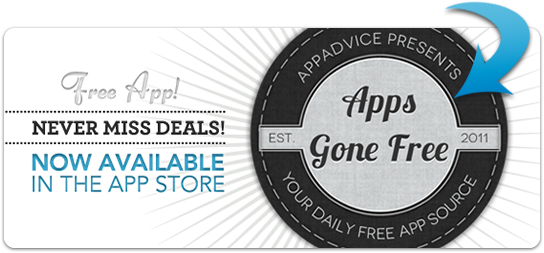 It provides all the deals each day, and even an archive of past deals that are still active.
Developers:
If you are a developer who would like to get your app included in our "Apps Gone Free" daily lists, here's our basic set of rules:
It must have at least a three-star average rating at the time it goes free.
The app must not have been free numerous times (3+) over the last six months.
The free version of your app must not include ads.
To submit an app, simply send a request to [email protected] with the subject "Apps Gone Free." Please include the name of the app, a link to it in the App Store, when and for how long you intend to offer the app for free, and anything else you would like to share. We will take it from there.